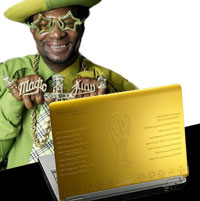 Now, we like gadgets. And shiny things. And we like football (well some of us).
So you'd think our hearts would go into pumpa-pumpa-palpitation overdrive when our eyes clocked Toshiba's Dynabook 2006 FIFA WORLD CUP EDITION laptop.
What could be better than a beyond bling-tastic gold finished laptop proudly displaying all the dates, host countries and winners of the World Cup?!
Well, quite a lot of things, actually.
Whipping out a laptop looking like a solid ingot of 9 karat on the train wouldn't just invite the curiosity of thieves; it positively sends them a personal, gilt-edged invite to purloin.
And, to be honest, we'd feel a bit of a prat if we whipped out this dazzling box'o'excess at a corporate meeting because, well, it looks rubbish.
But once away from the dazzling glare of the gold, there's a very nice laptop lurking inside with Toshinba kitting out the Dynabook TX with a Duo Core T2300 (1.6Ghz) backed by 512MB of RAM.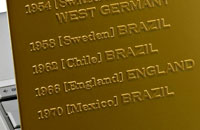 There's also ample storage on board in the shape of a 80GB SATA HDD, with a set of built-in Harman & Kardon speakers for playing back the roar of thousands of tanked up Taffies as Wales slam in the winning World Cup goal (well, we can dream).
In the meantime, we might try and get into the spirit of the Toshiba Dynabook by slapping a World Cup sticker and some gold Rolo packaging on the back of our laptops.