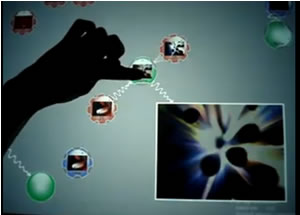 This is one of the coolest things we've seen in a long time.
A small group of researcher at Microsoft's UK Cambridge lab, including Stuart Taylor, have used the multi-touch Surface to bring an interface to VJing allowing anyone to get involved with the process.
Objects are pre-defined – video sources; video effects; mixers; etc – and placed on the Surface.
Using them looks like a doddle. At the most simple level, simply dragging a video source, close to the video output window, make a connection between them automatically and the video is show.
Two mix between two sources, a video mixer icon is simply dragged between two video source and connect to the output window. To favour one video source over the other (make it more dominant on the output), simply move the mixer close to the source.
Video effects can be applied simply by placing the icon of the effect in between the video source and output window. These can also be chained together.
Understanding
It's a great example of someone understanding, not only the device, but simplicity of interface and the task that is trying to be solved.
Stuart Taylor Bio and the official page on Vplay
Stuart explaining his wares …

Demo video …

VPlay: An Interactive Surface for VJing from Stuart Taylor on Vimeo.