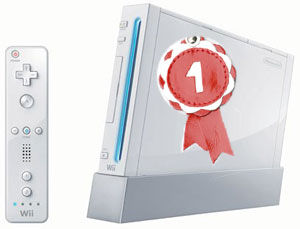 UK sales of video game hardware and software in 2008 have lept to £4.034 billion, so say industry body ELSPA.
Looks like fans of video games are refusing to listen to the doom-sayers and have been buying video games in ever larger numbers taking software sales to £1.905 billion.
Now the detail …
The Numbers
Nintendo won the UK in 2008 with software sales of nearly 40 million units.
Revenue from Nintendo Wii software sales enjoyed a dramatic increase of 112 per cent to £481 million, while the Nintendo DS video games sales were none to shabby at 19.1 million units, an increased of 17 per cent taking them to £481 million in 2008.
Next up was Microsoft with Xbox 360 game sales rising of 51 per cent to a total 14.9 million units sold. Revenues were up by 38 per cent at £443 million.
Looks like iSupply got it right.
Last placed Sony PlayStation 3 got to 10.4 million software sales, but attaining £334 million from those sales.
Peripherals up 82%
Interestingly and as a sign of a maturing market — if people already have what was previously know as a next gen console, the want to buy bits for it — the total value of console gaming peripherals increased by 82 per cent, with total sales reaching £549 million compared to £301 million in 2007.
2009 predictions
It's highly likely that if money does become tighter, people will stay in more and with TV being as terrible as it is, they're more likely to reach for a new video game to play with – making it highly likely that 2009 will be a good year for video games.