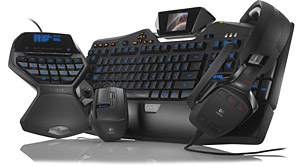 Looking fabulously over the top with their quasi-military-lines, mass of glowing buttons and proliferation of function keys is the new G Series range of PC gaming peripherals from Logitech.
Logitech G19 Keyboard
Aimed directly at spoddy gaming types, the techie G-Series line up is topped off by the $199 G19 keyboard, which packs a tiltable, top mounted 320 x 240 colour LCD and 12 "G-keys" which can be assigned up to three macros each
The display provides in-game information for over sixty games, including World of Warcraft, as well as VoIP communication data, clock, CPU load, and pictures or videos, and there's two high-speed USB 2.0 ports onboard.
The Game Mode switch disables the Windows key to prevent an accidental ejection from the game just as you're about to kill of the Overlord Thontium from the Planet BaaGraJoo (or whatever).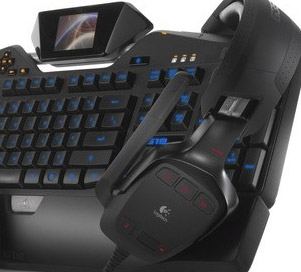 Logitech G35 Surround Sound Headset
Next in the range is the $129 G35 headset, which serves up glorious 7.1 surround sound in your noggin.
Powered by Dolby Pro Logic II technology, the matte black headset apparently simulates the complex acoustics of a listening room, so you can almost feel those creepy aliens crawling around in your head, Goddamnit!
The ear enclosing design keeps out the sound of Mum asking you to tidy your room, while an adjustable, noise-canceling microphone focuses on your voice and keeps background noise low.
If you really want to go to town, you can use the bundled software to disguise your whiny voice, and thunder online with the mighty larynx of a cyborg, a giant, a mutant, a troll, alien and, err, a space squirrel.
There's also three G-keys on the left earpiece for accessing chat clients like Ventrilo or Team Speak and additional on-ear audio controls for volume, microphone mute and surround sound adjustments.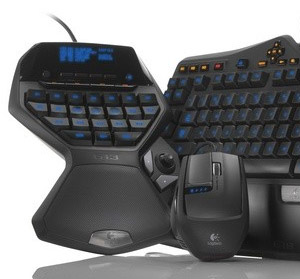 Logitech G9x Laser Mouse
Finally, there's the shiny new G9x mouse, dubbed the G9x, boasting a maximum DPI of 5000 for pixel-precise movement.
The mouse comes with onboard memory letting gamers program up to five ready-to-play profiles, while the custom-color LEDs give you a pretty light show whie you frag like a fecker.
Those G9x will retail for around $99 with an April release scheduled. The keyboard and headset are expected about a month earlier.