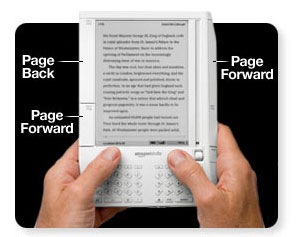 Brit bookish types hoping to find their Christmas stockings bulging to the shape of a large square tablet are going to be short of festive ho-ho-ho as Amazon has announced that it won't be releasing its Kindle eBook reader in the UK until next year.
Brian McBride, managing director of Amazon UK, explained to the The Bookseller that the delayed launch of the innovative eReader was caused by problems encountered during the process of licensing mobile access across Europe.
"If you need agreement with carriers in the US, there is one carrier," he said. "In Europe it is a minefield, as there are so many operators. If you buy a Kindle in the UK and want to read it on the beach on holiday, unless we have signed deals in Spain it is not going to work on the beach."
CitiGroup estimated that Amazon will shift around 380,000 Kindles in the US this year, with CitiGroup analyst Mark Mahaney declaring it to be 'The Apple iPod Of The Book World' back in August.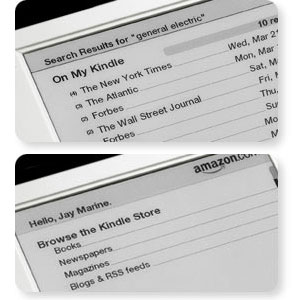 Despite having looks that only its mother could love, we've been wooed by its wireless functionality, and have long been casting envious looks Stateside.
Across the pond, lucky US citizens can enjoy free wireless mobile access so that they can download and buy books directly to the device, or get a daily newspaper 'delivery.'
Despite the setback, McBride seems unconcerned about Amazon being left trailing behind in the UK eReader market, even though major High Street book retailers like Waterstones and Borders have already begun shifting Sony and iRex eBook Readers (even if long suffering UK users had to wait nearly a year for the Sony PRS-505 reader to make it to these shores).
Although we're still waiting on v1 of the Kindle, in the States the second-gen Sony PRS-700 E-Reader has been with details of Kindle 2 being leaked earlier this month.
Kindle product overview:
# Revolutionary electronic-paper display provides a sharp, high-resolution screen that looks and reads like real paper.
# Simple to use: no computer, no cables, no syncing.
# Wireless connectivity enables you to shop the Kindle Store directly from your Kindle—whether you're in the back of a taxi, at the airport, or in bed.
# Buy a book and it is auto-delivered wirelessly in less than one minute.
# More than 185,000 books available, including more than 109 of 112 current New York Times® Best Sellers.
# New York Times® Best Sellers and New Releases $9.99, unless marked otherwise.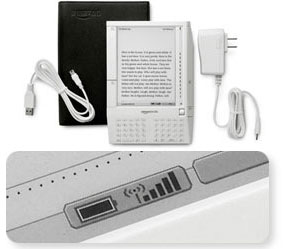 # Free book samples. Download and read first chapters for free before you decide to buy.
# Top U.S. newspapers including The New York Times, Wall Street Journal, and Washington Post; top magazines including TIME, Atlantic Monthly, and Forbes—all auto-delivered wirelessly.
# Top international newspapers from France, Germany, and Ireland; Le Monde, Frankfurter Allgemeine, and The Irish Times—all auto-delivered wirelessly.
# More than 850 top blogs from the worlds of business, technology, sports, entertainment, and politics, including BoingBoing, Slashdot, TechCrunch, ESPN's Bill Simmons, The Onion, Michelle Malkin, and The Huffington Post—all updated wirelessly throughout the day.
# Lighter and thinner than a typical paperback; weighs only 10.3 ounces.
# Holds over 200 titles.
# Long battery life. Leave wireless on and recharge approximately every other day. Turn wireless off and read for a week or more before recharging. Fully recharges in 2 hours.
# Unlike WiFi, Kindle utilizes the same high-speed data network (EVDO) as advanced cell phones—so you never have to locate a hotspot.
# No monthly wireless bills, service plans, or commitments—we take care of the wireless delivery so you can simply click, buy, and read.
# Includes free wireless access to the planet's most exhaustive and up-to-date encyclopedia—Wikipedia.org.
# Email your Word documents and pictures (.JPG, .GIF, .BMP, .PNG) to Kindle for easy on-the-go viewing.
# Included in the box: Kindle wireless reader, Book cover, Power adapter, USB 2.0 cable