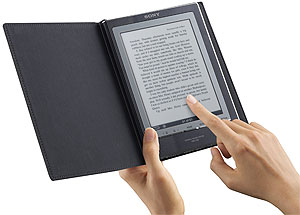 Sony has announced their second generation e-reader, the PRS-700, which looks to grab a piece of the action stirred up by Amazon's innovative Kindle e-reader, which is also rumoured to be updated shortly.
The PRS-700 comes with a six-inch display and is expected to retail for about $400. The slim unit weighs in at 10 ounces and comes with a stylus letting readers highlight text in an e-book or make margin notes.
About the size of standard paperback book, the reader has built in storage capacity for 350 books, with extra memory provided by a memory stick slot. Sony claims that the battery life of the device is good for 7,500 continuous page turns (or up to two weeks of reading) on a single charge.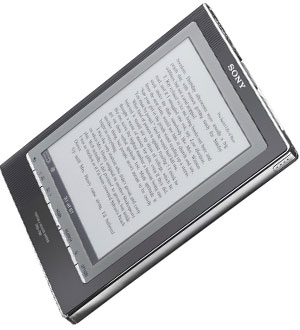 A natty touch screen lets readers flip pages with their finger, and there's a touch screen keyboard for entering searches. A built-in LED reading light lets users get stuck into War and Peace through the wee hours without disturbing their partner and there's six font sizes for folks with dicky eyesight.
Although Sony continues to own Amazon when to comes to looks, the lack of Kindle's wireless functionality is a major shortcoming in our book. Users have to download new content from their PCs via USB rather than using a wireless data connection.
However, the Sony PRS-700 supports a broader range of e-book and document formats and comes with a new software package called eBook Library 2.5 for loading Adobe PDF documents, Microsoft Word documents, BBeB files and other text file formats.
Sony's online bookstore currently has around 50,000 titles on offer, while the rival Kindle store manages more than 180,000, including many bestsellers costing $10 each.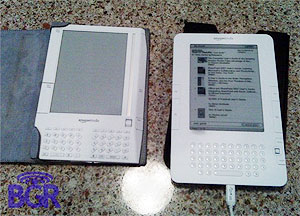 Sony PRS-700BC Reader Digital Book Specs
Weight (Approx.) : 10 oz. without soft cover
Power
AC Power : Optional AC Charger requires 120 Volts 60Hz
Battery Life (Approx.) : Up to 7,500 continuous page turns (or up to two weeks worth of reading)2
Battery Type : Rechargeable Lithium-Ion
Recharging Time : Approx. 4 Hours with USB charging from powered Computer or Approx. 2 Hours when using optional AC wall charger
Media Formats Supported
DRM Text : BBeB Book (Marlin)
Image : JPEG, GIF, PNG, and BMP
Unsecured Audio : MP3 and AAC7
Unsecured Text : BBeB, ePub, TXT, RTF, Adobe® PDF10, Microsoft® Word (Conversion to the Reader requires Word installed on your PC)
Display
Gray Scale : 8-Level Gray Scale
Resolution : Approx. 170 Pixels Per Inch
Screen Size : 6 inches Measured Diagonally
Technology : E Ink 'Electronic Paper'
Kindle 2 leaked
According to a report on Boy Genius, Amazon's Kindle 2 e-reader is readying for launch, with an improved, slimmer hardware design sporting a joystick instead of a scroll wheel and increased storage capacity of 1.5 gigs, compensating for the removal of the SD card slot.
There's also a standard mini-USB port for syncing and charging, with the same built in Sprint EVDO modem for wireless shopping till you drop for books from Amazon's online eBookstore.