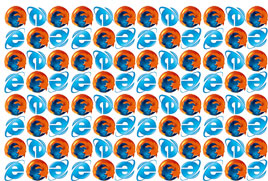 We can't say it comes as much of a surprise to us, but a study has found that Mozilla Firefox users are the safest surfers on t'web, while Internet Explorer users are the worst at keeping their browser's online security up to date.
Combined research by The Swiss Federal Institute of Technology, Google and IBM's Internet Security Services found that Firefox users were the most likely to keep their browser updated (83 per cent), mainly thanks to the browser's self updating software.
As a result of Internet Explorers users having to employ the irksome Windows Update tool to get the latest browser updates, only 48 per cent of IE users were surfing the Internet with the current version.
The 18 month study regaled under the name of (take a deep breath), "Understanding the Web browser threat: Examination of vulnerable online Web browser populations and the 'insecurity iceberg,'" and found that after Firefox, Safari users were the next most likely (65 percent) to be using the latest version of the browser.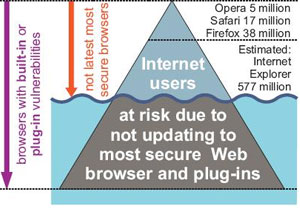 The study also estimated that Internet Explorer had a colossal 1.1 billion users around the world, adding up to a mighty 78.3 per cent of the total worldwide browser market.
Firefox registered 227 million users or 16.1 per cent, while Safari notched up 48 million users (3.4 per cent), and Opera managed a rather lowly 11 million users (0.8 per cent).
After Mozilla's recent heftily-hyped launch of their Firefox3 browser, the company claims to now have bigged up their share to 19 per cent of the total worldwide browser market.