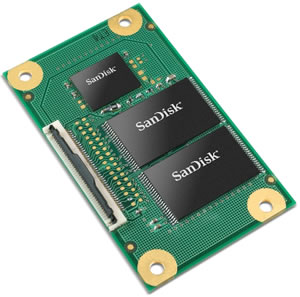 Solid State Drives (SSD) have been discussed for a long time in the industry and the release of the MacBook Air raised it into the minds of the general public, as there was an option to have one instead of the more normal hard drive.
SanDisk have today announced three sizes of SSD that they have renamed pSSD — to get the trade mark we assume — which they saw stands for Parallel ATA solid state drive. Sadly for them it currently stands for Post-SSRI sexual dysfunction, but we're sure that this is soon to get usurped on Google results.
SanDisk is aiming the 4, 8 and 16GB drives at low-cost laptops (such as the Asus Eee), sometimes called Netbooks. Production will be in Yokkaichi, Japan where the output will be shared with Toshiba.
SanDisk is claiming streaming read speed of 39MB/s and a streaming write performance of 17MB/s.
They're not available now, but they hope to have them out in August. Those who cannot wait to see them, will be pleased to heard that they can rush over to Computex Taipei, which is on this week.