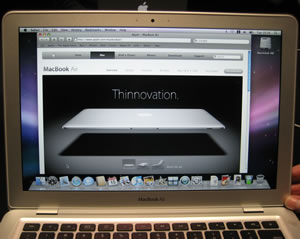 Great waves of unfettered iLove radiated around San Francisco last night when Apple head honcho Steve Jobs unveiled the world's thinnest laptop, a stunning, aluminum-clad, blade-like creation called the MacBook Air.

Measuring just 0.76 inches (1.93cm) at its thickest point, the wedge shaped MacBook Air is a beautiful piece of design, small enough to fit inside an A4 envelope.
Inside there's a 13.3-inch, 1280 x 800 pixel LED-backlit widescreen display with "instant on," a built-in iSight webcam and a full sized MacBook-style backlit black keyboard, with an ambient light sensor that automatically adjusts brightness.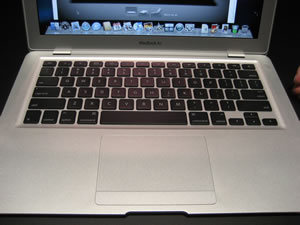 The large trackpad supports multi-touch gestures, like those seen in the iPhone and iPod touch, letting users zoom in and out of a web page or document with a pinching movement. Placing two fingers on the pad and twisting them lets you rotate what's onscreen – great for sorting through landscape and portrait photos.
The laptop is powered by an Intel Core 2 Duo chip running at 1.6GHz (1.8GHz upgrade available) with 4MB of on-chip shared L2 cache running at full processor speed, plus a 800MHz frontside bus.
A generous 2GB of (non-upgradeable) 667MH DDR2 SDRAM is also included, there's 802.11n-based wireless networking support and Bluetooth 2.1 + EDR and a nifty concealed flap on one side reveals a single USB 2.0 port, Micro-DVI (to connect an external display) and a headphone jack.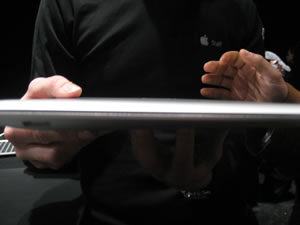 Weighing about 3 pounds, and measuring 12.8 inches wide, 8.95 inches deep 0.16-0.76 inches thick, it's a marvel of engineering, finished off to the usual high standard Mac finish.
Apple estimates that with wireless networking turned on, the MacBook Air can knock out a very impressive 5 hours of battery life.
Compromises ahoy
Although we wouldn't go as far as one Internet wag who declared, "This thing is barely a computer anymore. It should be in the iPod line up," you're sure trading off a lot of functionality for the mighty good looks.

Hard drive storage is restricted to a sloooow (4200 RPM) and small 80GB hard drive, although there is a monstrously expensive 64GB solid-state disk (SSD) drive option available,
There's no optical drive onboard, so users will either have to shell out for a £65 USB 2.0-based add-on SuperDrive or use the Remote Disk software to "borrow" the optical drive of another Mac or PC on the same network as the MacBook Air.
There's also no Firewire slot onboard and that single USB port will no doubt force some users to lug around easily forgotten/misplaced cables and connectors. The single mono speaker also restricts entertainment options.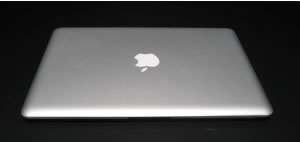 Heavy network users might find themselves frustrated by the lack of a built in Ethernet port too, while road warriors will rue the lack of integrated HSDPA/3G/GPRS connectivity options. There's no Express Card slot either.
All of the above could be forgiven if it were not for the crazy decision to fit an integrated battery.
Yep, you heard right: the battery can not be changed by the user. Instead, they'll be expected to pay something like £100 ($129 in the US) and send it off to Apple – along with all their precious personal data, photos, documents and memories – and wait at least a week for it to return. And hope it doesn't get lost/damaged/stolen in the post.
We feel many will see this is as a compromise too far. After all, the ultra-tiny, smaller and lighter Sony VAIO VGN-X505V of 2004 managed to fit in a removable battery (and a full complement of ports), so why couldn't Apple?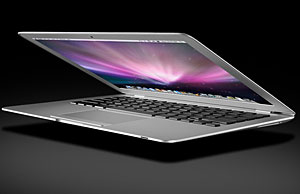 Although we love the looks and design of the Air, we think that unless you badly feel the need need to squeeze a notebook inside a manila envelope, you're probably better off saving a wedge of cash and getting a Macbook or paying out a bit more for a MacBookPro.
Or if you want to see what the other side has to offer, we recommend checking out the highly ranked Dell XPS 1330, Sony's TZ Series (or even consider the fantastically cheap Asus Eee) – these machines may weigh a little more and not garner admiring glances in the office, but you'll be getting infinitely more capable machines that are still very portable.
However, we doubt that these cost/functionality considerations will be troubling the minds of the target demographic: well heeled professionals keen to flash about an undeniably beautiful wedge of Yuppie Bling around the boardroom.
The Air ships in two weeks and will set you back a minimum of £1,199.