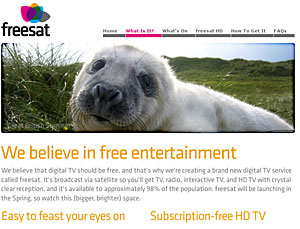 BBC and ITV are launching Freesat today, a new free-to-view satellite television service allowing viewers to gorge themselves on high definition television for nowt.
The two UK TV giants have teamed up to serve up a feast of 80 freebie television and radio channels which will be accessible to 98 per cent of homes.
The BBC have been talking about it for quite a while to the point where people stopped believing it would happen, through to a cautious 'yes probably' a year and a bit ago.
Although there are no subscription fees and the service is free, punters will need to shell out for a £150 set top box and be the proud owners of an HD-ready television.
One of the jewels in the crown of the free HD service will be BBC HD, broadcasting live sporting events, wildlife documentaries and drama in high def clarity.
Although it's estimated that around 10 million homes are already packing TVs capable of displaying high definition services, only a small percentage are actually enjoying the delights of HD (via cable or satellite subscription services).
BBC and ITV are hoping that their new Freesat offering will get punters slavering for HD, with up to 200 digital television and radio channels expected to be transmitted by the end of the year.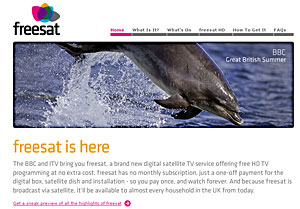 Freesat's Emma Scott explained that with 98 per cent coverage across the UK, only homes without a clear line of sight to the satellite will miss out on the fun (and certain listed buildings).
"But unlike Freeview you can receive Freesat across the country, which means that in those areas that at the moment can't get access to free digital television this is the first time that you can get free digital TV," she continued.