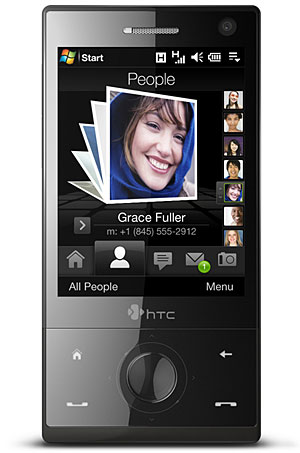 HTC's new Touch Diamond smartphone, successor to the popular HTC Touch (reviewed in June 2007) has just been unveiled in London.
Powered by a 528 MHz Qualcomm processor, the Touch Diamond eschews the pebble-smooth rounded lines of its 3-million selling predecessor and breaks out the piano gloss finish all over its rectangular lines.


The handset runs on on Windows Mobile 6.1 Professional overlaid with an updated version of HTC's TouchFLO 3D interface which is designed to keep the itty-bitty stylus in its silo and make the operating system more finger friendly.
We quite liked the finger control last time, but it still felt like a massive anti-climax when we were inevitably dumped back into the dowdy WM6 interface when we needed to get something done. Still, as eye-candy goes, it's quite entertaining stuff.
The 2.8-inch touchscreen packs an impressively large 640×480 (VGA) resolution screen – substantially bigger than the iPhone's 480 x 320 effort, although physically smaller in size – backed by 192 MB SDRAM, 256 MB ROM and 4 GB internal storage.
"We wanted to create a device that would allow people to walk, chew gum and get content from the Internet all at the same time," purred Horace Luke, chief innovations officer at HTC, who added that the phone had been designed for one handed operation.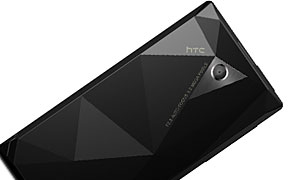 Keyboards galore
The Touch Diamond also bests the iPhone with its 11.3mm thick width – 0.3mm less than its iconic rival – with HTC claiming that it boasts a more responsive screen, making typing much easier.
To make the task of typing on unresponsive glass better, HTC are offering three different software keyboards; a traditional 12-key phone keypad, a hybrid Blackberry-like QWERTY offering and a full keyboard. We still prefer good old fashioned hardware keyboards but we hope to try out HTC's efforts soon.
The phone can also work on the fastest 3G networks and packs a 3.2 megapixel camera – a substantial advance on the iPhone's piddly 2 megapixels.
There's also GPS onboard for 'location-based services,' Wi-Fi (IEEE 802.11 b/g), Bluetooth 2.0 with EDR and a FM radio. The battery looks a little underpowered though at just 900 mAh.
Peter Chou, president and CEO, HTC Corp tapped the microphone, shouted, "1..2…1…2…" before unleashing a tsunami of spin: "Today we mark a new era in mobile phone evolution, an era where beauty and size integrate with uncompromising innovation at broadband speed. The HTC Touch Diamond will make browsing the Web and using Web-enabled applications just as practical and easy to use as making calls."
HTC said Orange – along with other European carriers – will be selling the phone from June, with a release in Asia and the Middle East later in the quarter, followed by North America towards the end of the year.
Specifications
Windows Mobile 6.1 Professional with TouchFLO 3D interface
528 MHz Qualcomm processor
192 MB SDRAM, 256 MB ROM, 4 GB internal storage
2.8-inch touchscreen with VGA resolution
GPS and A-GPS ready
Tri-band GSM/GPRS/EDGE (900/1800/1900 MHz) HSDPA (900/2100 MHz)
Wi-Fi (IEEE 802.11 b/g), Bluetooth 2.0 with EDR
3.2 megapixel camera with auto focus, VGA videoconferencing camera
FM radio
3.9 inches by 2.0 inches by 0.42 inches (99mm x 51mm × 10.7mm)
900 mAh Battery