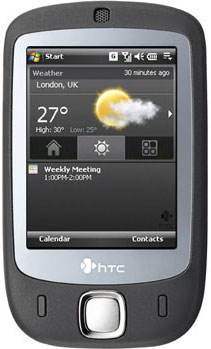 We were recently invited to the launch of the HTC Touch phone – a new slimline WM6 phone sporting 'TouchFLO' touchscreen technology – and the assembled herd of head honchos told us that HTC was hoping to steal some of Apple's thunder ahead of the release of their (over) hyped iPhone.
Now we don't go in for all this 'unpacking video' nonsense, but we feel that HTC's packaging was especially noteworthy, with the Touch coming in a stylish black box containing a large, full colour manual, which made a very pleasant change from the usual multi-language folded leaflets instructing us to, "Read the PDF file for more."

There was also a pair of proper stereo headphones, a smart carrying case and a spare stylus included in the package too. Good work, HTC!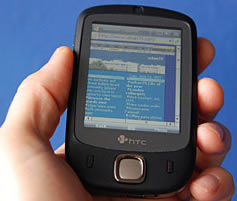 Look and feel
The Touch is a delight to hold, with its slim profile and small dimensions lending the phone a pebble-like form factor, and the rubberised soft-touch grip hopefully stopping you from accidentally skimming it down the toilet.
The device measures up at just 99.9mm (L) x 58mm (W) x 13.9mm (T), and weighs just 112g with battery, so it's a phone you can slip in your jacket phone and carry about all day with ease.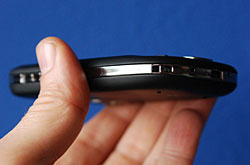 There's barely any buttons to be found on the front of the device, which is dominated by a 2.8″ LCD touch screen with backlight, supporting a 240 x 320 pixel (65,536 colours) resolution with a D Pad and two teensy-weensy Talk/End buttons.
The edges of the Touch are similarly bereft of controls, with only an on/off button lying flush with the casing at the top (tricky for podgy finger pokers), a volume up/down control on the left hand of the device and a camera launcher on the opposite side.
At the back is a 2.0 mega-pixel CMOS colour camera with the usual useless mini-self portrait mirror turning your face into a balloon.
In Part Two we take a look inside the Touch and at connectivity and multimedia functions.