A nifty mashup reaches us via Perry Aulie, co-founder of VideoIPO.
It's a service that is hoping to make a success out of the enormous and growing interest in watching videos online, specifically YouTube – but not by following the same now-overdone model of serving videos.
VideoIPO lets you trade on the popularity of YouTube Videos by mashing up YouTube video and the Hollywood Stock Exchange (HSX) trading engine.


How does it work?
The basic game objectives are, as you're wasting constructively spending your time browsing through videos on YouTube and you find a new video that you think will become really popular, you dash over to VideoIPO and IPO you soon-to-be-smash video there.
The game assigns an initial stock value to your VideoStock (yes, they've trademarked the term, but with one half of the founding team being from a legal background what do you expect!).
From IPO, the stock trades for one week, after which it's delisted and the owners receive a payout, on the basis of the number of times it's actually been watched on YouTube. 1000 views on Youtube = V$1 payout.
It's more sophisticated than just simply offering the facilities to buy and sell videos, but also lets you go Short or Cover videos.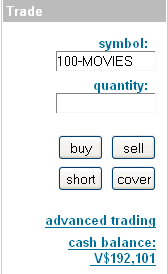 How is it to use?
Once you've signed up (which is pretty painless), you receive some virtual trading dollars – V$200,000 – V$220,000 depending on the details you provide.
Placing trades is made really simple by the provision on a box on the right hand side which you just have to type in the amount of stock you want to buy and click one of the four buttons relating to the type of trade.
Verdict
Given the right uptake, this site could become a hyper popular. It looks slick and has a good idea behind it.
As with all of these games, if you get on to them early, you have a chance of making a name for yourself within the game and getting a head start on the player who join later, so jump on now while it's still in Beta and the market is fresh.