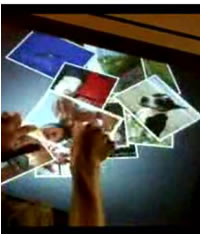 We've all seen the video of Microsoft showing off the surface table that lets you interact in what is now a novel way.
We've found a video that brilliantly mocks it.

(Here's an original Microsoft video just in case you didn't see it first time around)

Now, I saw multi-touch screens like this first demonstrated at eTech 2005 and it wasn't Microsoft showing it – although Microsoft CTO, Ray Ozzie, was there … Hmmm.
This is funny
The point of this posting is to get to the funny side.
Sarcastic Gamer has done a great job of mocking the heck out of Microsoft with this funny voice-over, running over the original Microsoft promotion video.
Watch it. You'll love it.
BTW – I VideoIPO'd the video yesterday – you may want to buy it