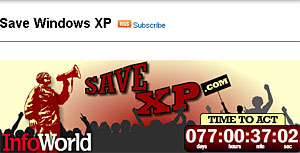 It may be six years old and primed for official retirement, but fans of the venerable Microsoft Windows XP are hell bent on keeping the operating system alive.
With Microsoft set to start taking XP off shop shelves in June this year, users have been loudly pointing to its superiority over its successor Windows Vista, which has garnered lukewarm reviews since its January 2007 launch.


The smooth talking PR folks at Microsoft have tried hard to make consumers feel the love for their shiny new Vista operating system, but for many the hefty hardware requirements, sluggish performance and incompatibility problems have kept them with XP.
Concerned by the soon-come withdrawal of platform support, technology journalist and XP diehard Galen Gruman started a Save XP Web petition in January demanding that sales of OEM and shrinkwrapped copies be made available "indefinitely."
The petition has already attracted 110,000 signatures and thousands of supporting comments.
Microsoft has already extended the deadline set for the axing of XP once, but has refused to meet Gruman to discuss the petition.
However, they told the Associated Press that they were aware of the petition and "will continue to be guided by feedback we hear from partners and customers about what makes sense based on their needs."

For folks buying new Windows PCs, they'll almost certainly only be able to buy it with Vista, with 94 percent of new Windows machines worldwide forecasted to be running Vista, according to industry research group IDC. The company also estimated that the figure will be 75 percent for businesses.
The new sales may be Vista, but there's still billions of XP machines still out there, with IDC analyst Al Gillen reckoning that by the end of this year nearly 60 percent of consumer PCs and almost 70 percent of business PCs worldwide will still be chugging along on XP.
Microsoft's full support (including warranty claims and free help with problems) is scheduled to end in April 2009, although a more limited level of service will be available up to April 2014.