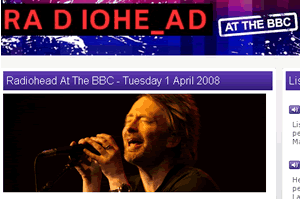 Further details of how Radiohead's 'give us what you want' album, In Rainbows, sold have emerged in an interview with the BBC, beyond the somewhat sketchy details what we knew already.
During their wall-to-wall Radiohead day at the BBC, where they appeared on many BBC channels, Thom Yorke and Ed O'Brien chatted to Radio DJ Steve Wright.
Wright opening the questioning with "How did the download work out? How many people downloaded and how many paid?"
Singer Thom replied with the somewhat unconvincing, "I don't remember, it worked as an idea," going on to explain, "everyone got to hear it on their own terms – whether people paid for it was a side issue."
Slight bitterness emerged with his next comment, "Given every record that we'd put out had leaked — We had people breaking in to studios and copying hard disks — It was a way for us to turn the situation to our advantage."
The millionaire muso concluded, "Whether people wanted to put some money in the hat was secondary."
What about the numbers?
Guitarist Ed actually got down to some figures … not money you understand, as they never really do. He proffered, "If you measure it by the money you got in, it was good. It was interesting to see how different countries responded.
"Italy was the most generous with 75% of people paying for it. UK had 60% of people paying."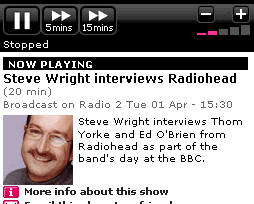 With an obvious dig at the current insanity of the music business of suing fans, he continued, "it was really nice to treat people as honest, civilised human beings, as opposed to money-grabbing thieves."
It appears that the number of people that didn't pay weren't quite up to dear Ed's expectations, "It was interesting within the band – I (Ed) was very optimistic thinking that 90% of people would pay for it. I was wrong as less people paid for it."
Frankly the amount of money that they made from the record didn't matter. They're wealthy enough never to have to work again.
What they have had is a remarkable launch on the back of the album stunt, marking the birth of Radiohead 2.0 – a band without a major music label.