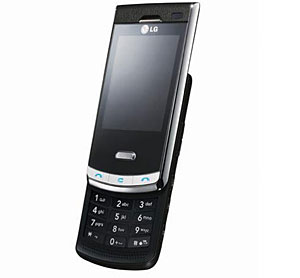 Currently being buffed and brought up to a nice sheen deep in the bowels of LG's mobile phone factory is the Black Label handset.
Thankfully, it looks like LG have elected not to name their new phone after a load of numbers, but have continued their trend for snappy monikers, with the new phone's code name of 'Black Label' expected to be given a user-friendly name following on from their earlier Chocolate and Shine handsets.
LG have claimed that their upmarket Black Label series will be the world's slimmest 5-megapixel camera phone – which means it'll have to shave a few millimetres off the current record holder, the Samsung G600 which measures up at a trouser-untroubling 14.9mm. Great news for those who like their trousers heavy metal tight.
Resplendent in its carbon fibre and tempered glass styling, there's no denying that the Black Label is a bit of a looker, with the phone sporting a no-fuss facade, with just four buttons (answer/end call, back and what looks like a 'select' tool) supplementing the touchscreen functionality. Unlike the Chocolate there's no scroll wheel on board, however.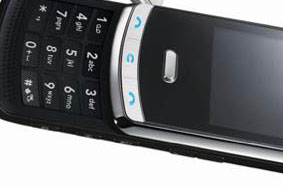 Details are even thinner on the ground than goals were for Barnsley at yesterday's FA Cup semi-final (Go Cardiff!), with LG saying that they'll be unveiling the model's name later this month.
We're also waiting on the full pricing details and we'll keep you updated as soon as we experience the high octane thrills of the spec sheet and perhaps some nicer pics.
Update: a few specs have surfaced:
3G network
scratch resistant glass LCD screen with QVGA display
5M-pixels camera + LED flash
video call camera
160 MB internal memory
microSD memory card slot