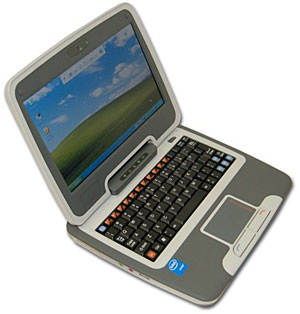 The runaway success of Asus's diminutive Eee laptop and the appearance of £99 laptops like the Elonex low-cost lapster has sent manufacturers scrambling to produce their own cheap-as-chips Tiny Tim lappies.
Currently motoring up over the horizon is the Intel 2go PC (formerly known as the Netbook), a rugged little number manufactured by CTL, and looking like its aimed at the education market.
With a rumoured price tag hovering around a pocket soothin' $400 (around 200 quid in UK spondulas), we could imagine this little fella appealing to a far wider audience, especially once they've given the specs the once over.
It may be cheap, but the 2go packs an Intel Celeron M CPU with 915GMS chipset backed by 512MB of DDR2 RAM (upgradeable to 1GB), a Realtek audio chipset with two integrated 1W speakers, and comes in Windows XP or Linux flavours.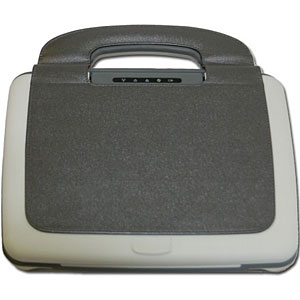 The 9″ widescreen LCD display offers 800 x 480 pixels resolution, and storage comes in the shape of a 40GB hard drive with a built-in SD/MMC slot offering expansion options. The laptop can be booted from the card reader or USB.
Connectivity options include onboard 802.11b/g Wi-Fi, 2 x USB 2.0 ports and an Ethernet socket, plus external microphone and headphone jacks.
There's also an integrated 0.3MP camera (640 x 480 video at 30fps) with the tough-looking 3lbs laptop measuring up at 8.7″ x 7.3″ a 1.5″ and offering around 3 hours per battery charge.
Engadget reports that the 2go PC should start flipping onto shop shelves "in less than 60 days."