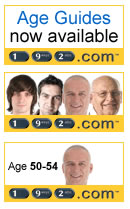 Online directory enquiry service 192.com have launched a new service which combines information on the UK Electoral Roll with the data they hold on phone numbers and addresses.
Those using the service are able to search for a people in the way you would expect with a directory, but by combining the Electoral Roll data with "modelled statistical data," the expected age of the person is also shown.
They call it an "Age Guide" and in their words they think it's a "great way to filter results to find the person that you are looking for."
We're far less comfortable with the idea – believing that personal data should stay that way, unless the individual chooses to expose it. We know that the Electoral Roll is public information, but putting it online, linked to other personal details changes its original state and purpose.
While the Electoral Roll data provides age ranges (17–20, 21–24, 25–29, 30–34, and 5 year bands thereafter until 60–64 and 65+), they also combine information from Companies House which will give a precise age.
As mild as this appears, it is a pointer of what happens when you start tying databases together and gives a clear indicator of the way things can go.
If this worries you, you need to be really worried about the potential if the UK government is successful in foisting ID Cards on the public.
Info can be removed
If you object to this information being made available for anyone with a Web browser to see, you can contact 192.com and ask them to remove it. We've done it and advise you do the same.