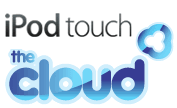 The Cloud, Wi-Fi providers in the UK, are launching a new service for iPod Touch users across the country.
Never slow to innovate, The Cloud is offering the service for £3.99 a month from 1 October, with no minimum contract.

iPod Touch-types will then be able to access the iTunes music service as well as browser the Web.
To get access to the service, iPod Touch users need to pre-register their individual device, by typing in their MAC address to use the service. Access to the Clouds WiFi is then without username and password, which frankly would be a major pain to do with the Touch's on-screen keyboard.
It's a smart PR move on their part, as it will attract attention to the service that they're launching with O2 when the iPhone is to be released in the UK in November.