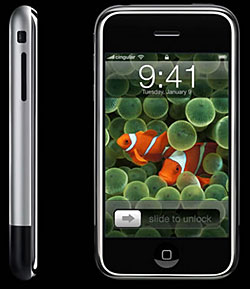 After months of bedwetting anticipation for Apple fanboys around the UK, His Royal iHighness, Steve Jobs, has shuffled his rollneck personage into London to announce the first European carrier for the 8GB iPhone.
In a deal that one insider described as "madly money-losing," O2 has secured exclusive UK rights to flog the innovative new phone, with a launch scheduled for November 9th.

The cost
The phone will be priced at an upmarket £269 (including VAT), with three tariffs offering unlimited data deals.
The O2 iPhone £35 comes with 200 inclusive minutes, 200 SMS messages and unlimited data and wi-fi usage (subject to the usual 'fair use' caveats). The O2 iPhone £45 ups the minutes to 600 and the SMS count to 500, while the most expensive tariff offers 1,200 minutes and 500 text messages for £55. All tariffs offer "special roaming rates with ITS" and will tie you to O2 for hefty 18 month contracts (so you'll be kicking yourself when the next iPhone comes out next year).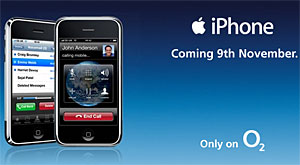 That works out at a total £900 outlay on the lowest tariff, rising to £1,260 for the top tariff. Seeing as similar tariffs elsewhere will get you the superior spec'd – and faster – 3G Nokia N95 for just about free, the prices look well steep to our eyes.
We also noted that the £269 price tag for the phone works out at more than the equivalent USA asking price – and that's after they introduced the recent $100 discount. You're 'avin' a 'laaarf, Jobsie.
To increase Apple's High Street presence, the Carphone Warehouse and its 1,300 retail locations have been roped in, each to offer an in-house "expert" on the iPhone ("tip one: start saving!").
Apple fans had hoped that a 3G version of the phone was going to be announced today – instead users will have to battle with O2's extremely patchy EDGE network which is only going to cover some 30% by launch time.
The pill is slightly sweetened by Apple's deal with The Cloud to provide free Wi Fi for O2 iPhone users at their 7,500 hotspots around the UK.
Divide and conquer
Leading up to today's announcement, it seems that Apple ruffled more than a few industry feathers with its "divide and conquer" style of bargaining, playing each mobile operator off the other before striking a particularly ferocious deal with O2.
According to the Guardian, O2 may have to cough up to 40% of any revenues it makes from customers' use of the iPhone, with the deal letting the pricing of the combined phone and iPod be changed by Apple any time it fancies.
Moreover, some pundits suspect that O2 were stitched up by Apple 'forgetting' to mention the forthcoming iPod Touch which offers similar functionality (without the phone) for far less moolah.
Check out this great example of awkward diplomacy from today's launch Q&A:
Q: Were you aware that the iPod touch was coming out when you were negotiating the iPhone deal?
O2 bloke: "One of the great things about working with Apple is they are always moving forward."
With O2 the sole retailer of the new iPhone at a price that's making their eyes water, those waiting for the price to drop could be in for quite a long wait yet.