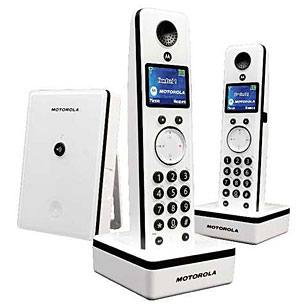 Motorola has announced its new range of of MOTOLIVN phones for folks that are still digging the landline action.
White, tall and slim like an Icelandic supermodel, the D8 phone comes with a location-free base so you can position the handset wherever there is a nearby power socket.

The D8 handset – also available in black – comes with a 3.6cm full-colour display and doubles up as a Skype phone offering easy access to Skype services including buddy lists, SMS and Skype chat (IM).
The phone also boasts an 'enhanced phonebook capacity', a SIM card reader for transferring contacts off your mobile, a headset socket and what Motorola describe as 'high-definition sound' (how good can a phone call sound?).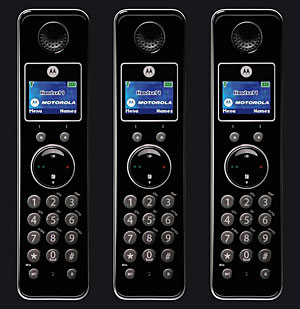 The cheaper D7 jettisons the fancy colour screen for a backlit, blue two-line mono display, and is available in silver.
Both phones claim 'environmentally friendly features,' like an "eco-mode" for saving energy and technology to enable the handset to automatically adjust output according to its distance from the base unit (shouldn't a well designed phone be doing this anyway?).
There's also ten ringer melodies onboard as well as a built-in speakerphone, up to ten-hours of talk time (100-hours in standby) and the ability to store a minimum of one hundred phone numbers, if you've got that many mates.
The D7 is priced around €49.99 ($70) while the added Skype functionality and colour screen of the D8 pushes the price up to €69.99 ($97).