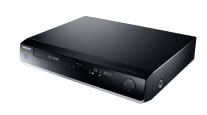 Two years after Samsung first announced their intention to sell a dual fomat HD player that would play HD-DVD and Blu-ray – in the same unit.
As well as being the first dual format player, the BD-UP5000 Duo HD Player supports both formats interactive formats – DB Java and HDi.

Since the floating of the idea two years ago, the cost of separate HD-DVD and Blu-ray players have dropped in price (and this will clearly continue), so a single player with a relatively high price becomes less appealing. A single box and remote being the only advantage over the separate approach.
When asked why it had taken so long to move from the announcement of the intention, to actual produce, no credible answer was forthcoming.
'Real' photos later we hope.
This was written on a Blackberry Curve and sent via the Vodafone network.