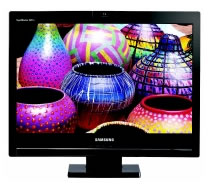 Samsung have announced two 22″ monitors with a mic and 2mpx video camera built-in.
All that is needed to get going with the top of the range, 220TN, is an Internet- connected Ethernet cable in the back as all of the required software is installed.
They say that it's been optimised for Microsoft Unified Communication (UC).

The 220TN, has embedded WinXP providing support for Microsoft Messanger and Skype by default and all of this without the need for a separate PC.
There are two models – 225UW and 220TN, both 22″ with a 1680 x 1050 resolution and USB powered hub. The 220TN has 4 USB and the 225UW has 2.
We'll be dropping over to the stand to get some live pics later.
This was written on a Blackberry Curve and sent via the Vodafone network.