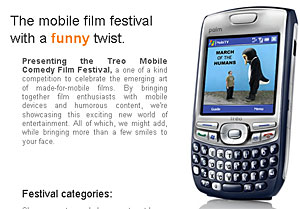 Created to celebrate the emerging art form of made-for-mobile films, the Treo Mobile Comedy Film Festival is still open to entries from aspiring film makers.
Open to wannabe mobile videomakers from the United States, Canada, and good ol'Blighty, the entry deadline is 14th September 2007, with entrants having to be 18 or over.

Despite its name, there's no requirement to use a Treo smartphone (good job too, as the built in video camera is well duff), or in fact any mobile at all.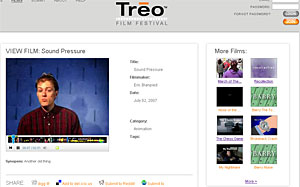 Instead, the competition lets folks shoot and edit their masterpieces using any traditional or non-traditional filmmaking method, just so long as it's designed for, "the smaller screens of mobile devices instead of theaters, the web, or TV."
There's three categories to choose from: This Mobile Life, focusing on subjects such as "mobile romance, mobile manners, or the lighter side of life as a mobile warrior", Retake, where users are invited to reshoot endings to famous movies and Animation for showing off made-for-mobile comedic animated shorts on any topic.
There's to be no naughty stuff, with the rules advising that there should be, "No nudity, foul language, or graphic violence." So, there goes our entry there.
Winners can scoop up prizes from $2,000 to $5,000 with extra goodies including a mobile filmmaking toolkit, plus travel and accommodation for the October 18th Los Angeles gala event.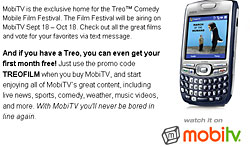 The Treo Film Festival joins a growing band of mobile film competitions worldwide, including Mobifest and the Global Mobile Awards at the Mobile World Congress in Barcelona, Spain.
The Treo Film Festival will also be shown September 18th through October 18th on MobiTV, but that's a fat lot of use for us UK users seeing as we don't get the service over here.
TreoFilm. View some of the entries here: treofilm.com/films/view/137