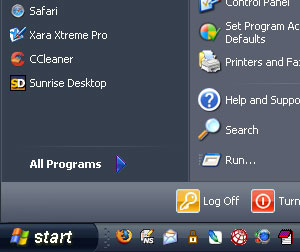 If you're fed up with the relentless blueness of the standard XP theme but can't be arsed with all those fiddly downloadable theme programs, maybe you'll warm to the Royale theme.
It's apparently an unreleased Microsoft XP Media Centre theme that was leaked out to the web, and it looks rather purdy in a shiny but dark'n'moody Vista-esque sort of way.

Unlike some of the other solutions found on the web, the Royale theme is free, easy to download and offers a pretty straightforward installation process.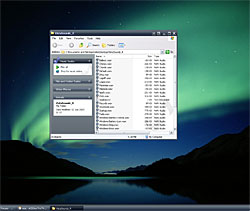 Step one is to download the theme pack from here and then you'll need to run this patch once too
(this lets you to use unsigned, 3rd party visual styles in Windows XP).
If you don't fancy messing about with any patches, you can download the entire thing here.
Once installed, you'll enjoy a rather attractive new background showing the northern lights, a host of new system sounds – including somewhat over the top start up/shut downloads – and a groovy circular pulsing animation to replace the boring old hourglass.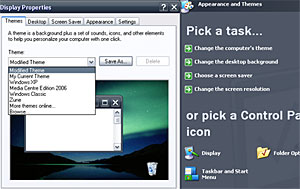 Perhaps because of its similarities to Vista, the theme was never given a full release and there are still one or two minor rough edges to be found, but we have to say we much prefer it to the standard XP blue – it even made our soon-to-be-retired copy of Eudora look remotely 21st century.
Recently, Microsoft launched a Zune theme, very much based on the Royale and available for download with a Windows Installer package on their site. That orange 'start' button still hurts our eyes though, so we're still sticking with Royale Noir.
If you really want to make your old XP machine look like a newer Vista-packed PC, you can download the freeware Vista Transformation Pack 7.0 and create a near-facsimile of the operating system's look and feel.
If you can't get enough of new themes for your XP PC, check out www.crystalxp.net and the commercial Window Blinds, which lets you apply endless visual styles to your machine.