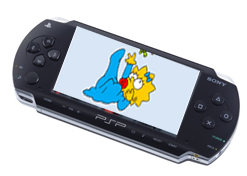 Sky have announced, in the presentation of their final year accounts, a joint venture with Sony Computer Entertainment Europe to offer PSP owners in the UK and Ireland a content download service.
Saying that PSP-owners can "turn their devices into personalised on-demand video libraries," will be a big boost for the PSP UK-side, where Sony claim that there's 2 million of the blighters.
The start date has been pencilled as "early 2008," making it the first in Europe. With delivery to the handheld via wireless or PC-connection, it's that expected content such as "sports, entertainment, movies, music and animation," will be available, interestingly from "both Sky and 3rd party channel partners."
Sky is being really prolific in distributing its content (apart from Virgin customers :) ), arguably better at it than the BBC – whose have a specific remit to do so.
Financial terms were not disclosed.