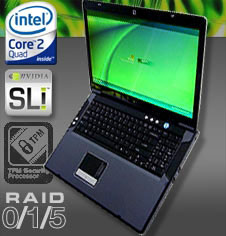 Billed as the "ultimate Mobile Workstation" for graphics pros, gamers, CAD/3D wizards and video content creators, Eurocom's quad-core D900C Phantom-X looks something of a fearsome beast.
The shiny quad-core monster comes with an upgradeable processor, with the top of the range Intel Core 2 Quad option (Q6700, 2.66Ghz, FSB1066) packing 8MBof L2 cache and adding a whopping $755 (£370, €550) to the already wallet-frightening base configuration of $2,999 (£1,500, €2,200).

The machine can take up to 4GB of DDR2 RAM, and supports up to three physical 3Gb/sec SATA-300 hard drives, offering a maximum of 750GB of hard drive space.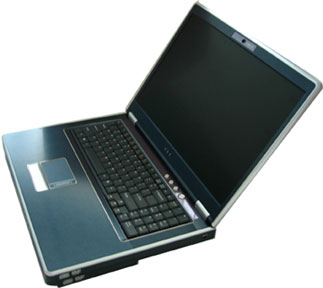 The display comes in the shape of a widescreen 17.1-inch WUXGA screen with 1920- by-1200 pixels resolution
Graphic card options include 512MB Nvidia GeForce Go 7950GTX, GeForce 8700GTX or Quadro FX3500; 1GB with Dual (SLI) VGA operation, with the Phantom X offering High Def TV Support, with a HD Audio interface and HDTV S-Video 7-wire output built in.
There's 'nuff connectivity options onboard including USB 2.0, FireWire, DVI, S-Video, optical and analog audio in/out, gigabit Ethernet and an internal 7-in-1 Card Reader covering MS/MS Pro/MS Duo/MS Pro Duo/SD/Mini-SD/MMC.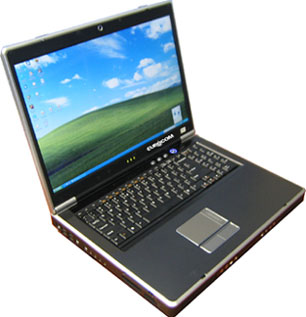 Rounding off the features list, there's integrated Bluetooth 2.0, SuperG 108Mbps or 802.11agn, integrated TPM Module for data security and encryption, stereo speakers, a built-in microphone, and an optional TV tuner for those executive kickback moments.
It's not the prettiest of laptops and we imagine its battery life will be best measured in minutes rather than hours, but for power users it could easily make the grade as a desktop replacement.
The lappie comes in Windows XP Pro and VISTA 64-bit flavours, with a host of customisation options available on the Eurocom site.