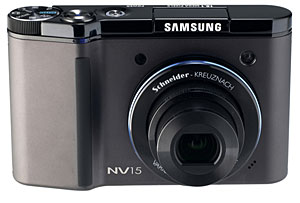 Samsung have let rip with three new models to their NV series of point'n'shooters – the eight mega pixel NV8, 10 mega pixel NV15 and 12 mega pixel NV20.
All three new cameras feature the unique Smart Touch interface which lets users navigate through the menus by sliding a finger across the control buttons running outside the cameras' 2.5″ LCD screen.

The sleek black stainless steel compacts offer a high sensitivity rating of ISO 3200, although we suspect you'll be looking at veritable snow storm of image noise at those lofty heights.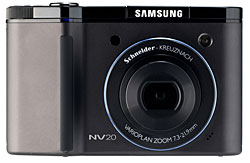 Samsung have also fitted the cameras with an improved Advanced Shake Reduction (ASR) feature, new Auto Contrast Balance (ACB) and Image Noise Reduction modes.
In the optics department, there's a fairly mundane Schneider 3x optical zoom, with the inevitable face detection technology, heap of scene modes (14 in total) plus VGA video at 30fps and SDHC/SD expansion up to 8GB.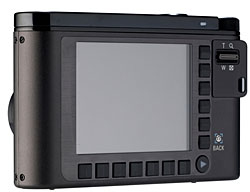 Stewart Henderson, Vice President Marketing, Samsung Opto-Electronics America seemed so enthusiastic about the camera, we'll let him step up to the mic: "This is not your typical family of point-and-shoot digital cameras. At Samsung, we take great pride in the NV series because of the firsts that it brings to market, including our revolutionary Smart Touch interface, as well as the WOW factor that makes the cameras stand out from the crowd."
"Packed to the brim with advanced, innovative features, the NV8, NV15 and NV20 are targeted towards the experienced digital camera owner looking for a step up model that breaks free of the 'me-too' look and feel that many manufacturers often follow," further frothed Mr. Henderson.
The NV20 and NV15 will be sent out into the wild to fend for themselves sometime in the Autumn for $399 and $299, respectively, while there's no price set for the NV8 yet.