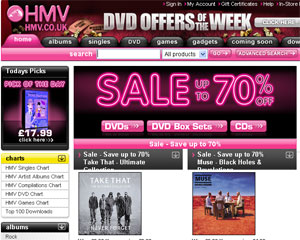 Music mega retailed HMV has announced that it will start selling "DRM-free" digital downloads from September 2007.
Over one million "DRM-free" tracks will be available for download at launch, including EMI's full catalogue with big names like Coldplay, Lily Allen, Gorillaz and Robbie Williams.
They'll also be existing content made available from other labels distributed by HMV's digital partner, MusicNet, adding to the 3 million+ tracks already offered online by HMV.

"We're excited to be making MP3 downloads available through HMV, as this is consistent with our ethos of giving our customers the widest possible access to music, however and whenever they wish to enjoy it," purred Gideon Lask, HMV ecommerce director.
"Music fans increasingly expect versatility and interoperability in the way they consume music, and we feel the time is right to acknowledge and act on this expectation," he continued.
The company said that it will be shunting all their digital downloads into the hmv.co.uk online store, rather than keep using the current hmvdigital.co.uk, thus allowing UK customers to buy physical CDs and digital CDs from the same website.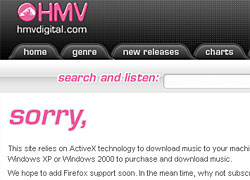 (Incidentally, we tried to take a look at the hmvdigital.co.uk site but learnt that it doesn't support Firefox. Way to go, guys! We left unimpressed).
The tracks will be available in MP3 format with a high quality 328kbps bitrate, with prices starting at 79p, so punters may be able to buy the same tracks cheaper from HMV than rivals Apple
According to HMV, the downloads will be compatible with all MP3 players, including the enormously popular Apple iPods.
As HMV brokers agreements with other labels, the total number of non-DRM tracks available as MP3 downloads should grow over the coming months.
The announcement came as HMV revealed that its full-year pre-tax profits from 28 April had crashed from £98.2m to £48.1m.
Elsewhere, our favourite High Street music retailed FOPP looks to have closed forever on Friday, a victim of the slump in CD sales.