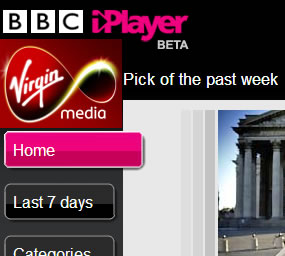 Virgin Media tell us that they "will be the first" TV service to offer the BBC iPlayer service through their STB and remote control – rather than through a computer.
Following yesterday's Official launch of the BBC iPlayer, we thought this would of interest to follow up.

Virgin Media already has a lot of BBC content – around 60 hours – available via their Catchup service, providing similar service to the iPlayer.
The new deal with the Beeb is to offer a iPlayer-branded service, keeping its look and feel, but letting the Virgin Media customers navigate through the service using just their remote control.
No precise dates are currently available, but following the 27 July release of the iPlayer and "a bit of testing time," the service will be released, sitting within Virgin's on-Demand service.
We'll let you know when we hear more.