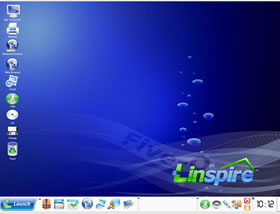 Looks like there's a danger of some of the open-source software world and Microsoft breaking out into a huge big love in.
Linspire, which started life as Lindows in an effort to antagonise Microsoft, has announced an agreement with the Redmond giant to co-operate in a number of areas.

• Document format compatibility. Linspire will join with Novell Inc., Microsoft and other companies to develop and distribute open source-licensed translators that allow OpenOffice and Microsoft Office users to better share documents. These efforts will enhance customer choice by enabling effective translation between Ecma Open XML and OpenDocument Format documents.

• Instant messaging. Linspire will license Microsoft's RT Audio Codec to promote voice-enabled interoperability between Linspire's Pidgin instant messaging client and Microsoft's instant messaging clients for business, Microsoft Office Communicator, and, for consumers, Windows Live™ Messenger.

• Digital media. Future releases of Linspire will now support the latest Windows Media 10 audio and video codecs, allowing Linspire and Microsoft Windows users to better share digital media files.

• TrueType fonts. Linspire will license popular Microsoft TrueType fonts, including Arial, Georgia®, Times New Roman and Verdana®, so Linspire users have improved experiences creating, editing and viewing files and documents.

• Web search. Linspire will select the Live Search service of Windows Live as the Linspire 5.0 default Web search engine, allowing Microsoft to bring Live Search to a broader set of users and providing leading search capabilities to Linspire customers.
The Web search side is obvious, Microsoft is always more that keen to grab opportunities to have their search used over Google.
More surprising is the IM and digital media compatibility.
Microsoft has gone to great extents to keep with IM from being connected to in the past, although this agreement appears to be based on the voice comms side of IM – giving Microsoft a strong position against runaway success Skype.

Digital Media
The digital media side is also surprising. At the moment Apple Mac's aren't able to play Windows Media 10 files, so for it to be on Linspire suggests that Microsoft is taking a pop at Apple in trying to widen consumers choice, away from Mac.
It's not clear currently if DRM'd content is included in the agreement. That would be very surprising from a number of sides. Michael Robertson who founded and bank rolled Linspire has built a career on non-DRM products – and Microsoft would have to place their DRM code on a Linux system.
On the legal side, they've also agreed a 'framework for patent covenants,' providing rights to relevant Microsoft patents.
Only if you pay
It's most worth of note that these new features only come with Linspire, the pay for product and not Freespire, which is available for free download. It's not clear who specified this, but the benefits to Lindows is clear – income – and to Microsoft, they're not making a free Linux product better, thus pushing people towards thinking that operating systems must be paid for. Free OSs terrify Microsoft.