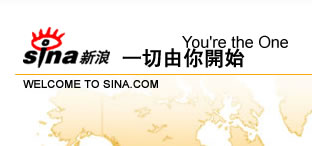 In a long line of partnerships deals, designed to improve their standing – and income – within Mainland China, Google has signed a deal with China's number one portal, Sina.com.

Google's search results will be used for general searches across the Internet, replacing Sina's own iAsk search, which will still be used for specialist searches such as news; photos; blogs and for mobile phone searches.
In return Google will get an unspecified split of the advertising revenue displayed besides the search results.
Both companies said that they will "expand their co-operation into news and other content areas."
As if to prove that business lingo is the same the world over, Charles Chao, CEO of Sina, said , "China's Internet market is becoming mature where every company has its focus and unique advantages. We'll just need to adjust our strategy and make full use of our partner's unique advantages."
In a confusing statement to the China Daily newspaper, Lee Kai-Fu, vice president of Google and president of Google Greater China, said that "Traffic is vital to all search engines, but it's not the most important for us," which almost sound like admitting defeat. He fell back on a oft-used phrase, "Our aim is to provide high-quality search results," tying in nicely with recently released research [link], showing that in a blind test, Google's results came out top.