Apple has also announced the summer release of Final Cut Server, a cross-platform (Mac+PC) piece of software designed to serve the Final Cut's 800,000+ users, alongside its announcement of Final Cut Studio 2.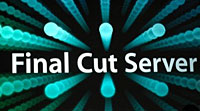 We think that given the Mac OS is based on a form of Unix, and Apples dislike for Microsoft, it's surprising that Apple hasn't released a Linux-based server.
The software automatically catalogues large collections of assets and lets editors collaborate and share videos with each other, supported by keyword searching of video clips, access controls and workflow templates.
This is an aggressive move by Apple into the area that has until now been dominated by highly specialised video editing packages.
Final Cut Server will cost $999 (£649) for a 10-user license or $1999 (£1,299) for one server and unlimited concurrent users.
It is expected to be released in Summer 2007.