As you know the Sony's European edition of the PS3 went on sale on Friday with the expected effort from them and their associated PR organisations to try and make a big thing about it.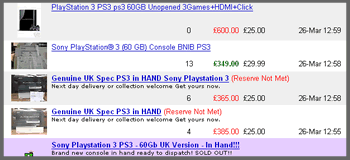 We didn't bother covering it, as we've said quite a few times before, we didn't think the PS3 was going to set the world (or at least the UK) alight.
It's too expensive (£425 retail) and doesn't offer the consumers enough to make it a must have – even when they're trying to make the most out of it having a Blu-ray player.
Proof of the lack of interest can be found on UK eBay, the strongest, most immediate guide on the current market price of items.
Looking at the finished auctions, there is a sea of red prices, showing that items aren't selling, a big "up yours" to the people who thought they were going to be buying their PS3 and flogging it on for a big profit.
The PS3 items that have sold are around £320 – £410, well _below_ the current retail price. In the lowest case, nearly £100 below – THREE days after the launch of the product. Not the normal behaviour of the public if they're excited.
The initial signs for the PS3 aren't going well, but Sony may well have anticipated this by re-jigging hardware design to make them cheaper in preparation of a price drop.