On the day after news of the date of the first English town to start to go full digital on the delivery of TV, we're reminded by HDforAll that Ofcom currently doesn't have plans to set aside any of the freed up frequencies for HDTV usage.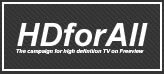 Despite a successful trial run in London during 2006, where HD was delivered over Freeview, the only available ways currently to watch HDTV is via Sky satellite or cable.
One of the major reasons that the UK Government, and in turn, Ofcom is so keen for transferring everyone from the current analogue TV service to digital, is that it will free up large swathes of frequency. Ofcom's plans are to auction this, and other frequencies off to the highest bidder, as we've covered a couple of times.
Not wishing to be left out of the HD world, the BBC are also keen to not just rely on Freeview delivering HD and to this end the BBC Trust have been given a provisional Yes for a FreeSat service capable to deliver their HD.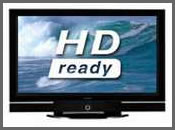 HDForAll are a pressure group made up of TV manufacturers, retailers and public service broadcasters including DSGI, Samsung, Sony and Toshiba and BBC, ITV, Channel 4 and Five. They're keen to remind people that there's only a limited amount of time left to contact Ofcom to make their views known on auctioning off spectrum to the highest bidder. Background on this and how to respond are available on Ofcom's site.
The public appear to be behind having HDTV on Freeview, nearly 5,000 have signed an e-petition (now closed) and there's another one urging that
spectrum be made available for citizen and community uses – a la open access cable in the US.
A survey carried out at the end of last year, also found that the vast majority of people, no matter what platform they use, want HD to be available on Freeview – 96% of Freeview, 91% satellite and 92% cable users.