(Update: Details of the switch over process)
Today the date of the start of switchover to Digital TV of the first English town was announced as 17 October 2007. Being cautious types, they're only going to be switching off one analogue channel to start, BBC 2, with BBC1, ITV and Channel 4 going dark over the rest of the month.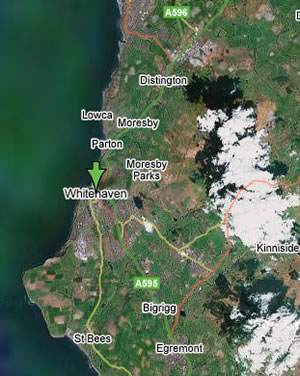 Back in June last year, we heard that Whitehaven was going to be the first town in England to switch off their analogue signal to be replaced by a purely digital service.
Whilst the majority of the channels, including all of the public service ones, will be available via DTT (Freeview), there are a number that won't. Film 4 won't be available, but Film 4 +1 (the same, but delayed by an hour) will be – no great loss there. Other missing channels will be a number of shopping and adult channels – a loss for some.
Whitehaven follows analogue switch off which started in Wales, specifically Ferryside and Llanstephan, back in March 2005 and four months later was judged to be a success.
Whitehaven, Cumbria, has similar characteristics to the previous Welsh site – pretty self-contained with the sea to its left and a jolly big mountain on to its right. Areas like this (Google Maps) are chosen to minimising the impact on the surrounding areas.
The official figures for preparedness do present a few hurdles for them. Only 73% of the Wighthaven households have the equipment to let them receive Digital TV – be that via Sky or Freeview. That leaves over a quarter of them still exclusively on analogue.