Another in O'Reilly's missing manual series, this covers the iPod and its companion program iTunes.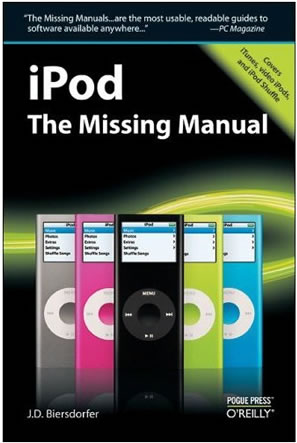 Although most of the information can be had elsewhere, it's useful to have a single source where everything's in one place. Forgotten how to reset your iPod? It's in the Missing Manual.
Some sections are genuinely useful, especially the Power of Playlists. It describes how to set them up and even gives links to software and on-line services which may make your life easier, including things like shared playlists and what other people are listening to.
The book is US centric and the iTunes sections assume you live in the US and can purchase TV shows and such like (which us Brits can't do yet), but it's still a useful reference.
The sections on photos and video are reasonably complete and help users manage their photo collection on and off an iPod and convert video for iPod use. There's also a good section on the other features available on the iPod so you can manage address books, calendars etc.
At around £14/$20 it's not the cheapest book out there, but it should be the only iPod book you'll ever need.
Verdict
Value – 72%
Information – 88%
Overall – 80%
Buy at US Amazon $12.59
Buy at UK Amazon £9.23
The chapters are: –
Meet the iPod
Bopping Around the iPod
In Tune with iTunes
The Power of Playlists
Shop the iTunes Store
Videos Everywhere
Picturing Your Photos on the iPod
Other Stuff the iPod Can Do for You
iPod Out Loud
What to Do When the iPod Isn't Working Right
Advanced iPodding