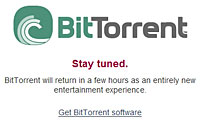 Once the biggest, baddest, mean mo'fo name in the world of web piracy, BitTorrent is going legit today with the launch of a digital store backed by a string of big name content partners.
The deal sees BitTorrent able to offer films, TV shows and videogames from heavyweights such as Fox, Lionsgate, Paramount, MGM, and MTV Networks, as well as content from indie distributors like First Look, Palm Pictures and Kadokawa and several video game distributors
After announcing its intention to give up a life of crime and go straight over a year ago, BitTorrent has been in prolonged negotiations with a string of studio big boys but failed to secure enough partners for their proposed autumn 2006 launch.
Although the company were keen to get all the big studios ticked off the list, they took a look around an increasingly crowded marketplace and realised that they'd better get their arses in gear before they became associated with the words, "ship" and "sailed".
"We have been ready to go for a while," insisted company CEO Ashwin Navin.
"There comes a point in time where you say we've got 10,000 titles ready to go and we shouldn't wait anymore. We're confident that we'll be adding more studios soon," he added.
BitTorrent technology
The peer-to-peer protocol developed by BitTorrent has proved massively popular on the internet, although mainly with people sporting an eye patch, a parrot on their shoulder and a propensity for saying, "oooo arrrr!"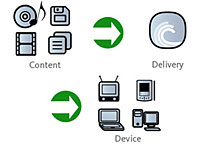 Despite its dodgy background, BitTorrent enjoys a high 'brand' profile which it's going to need when going head to head with rivals like Apple, Microsoft, Amazon.com and Wal-Mart.
With its Premium TV and movie content looking much the same as everyone else's and pricing pegged in a similar ballpark, we're looking hard to find an exciting USP here for BitTorrent.
All of the movies offered will only be available for digital rental, with the content going kaput 30 days after being downloaded (or a day after you start watching it), with DRM being taken care of by Microsoft's Windows Media Player.
We can't see punters getting too excited by having to fork out for a time-limited, use-limited movie that offers a far worse deal than owning a DVD. Can you?