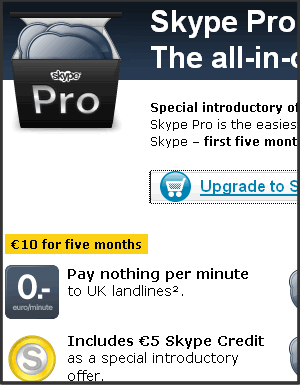 As you know, Skype Pro was announced in the middle of January. Today the pricing was confirmed.
For €2 + VAT per month, subscribers will be getting
Zero cents per minute calling to domestic landlines in the UK previously 1.7c per minute
Free Skype Voicemail (normally €15 per year)
€30 discount on SkypeIn numbers
€5 Skype Credit included as part of the introductory offer (see below)
A €30 discount on a Philips VoIP 841 cordless phone
A €10 discount on an SMC WiFi phone
Additional discounts on a series of Skype Extras are also available including desktop sharing, avatars, emoticons and ring tones
It's not all free on the calls to landlines, as each call made will have a 3.9c connection charge made against it.
The lucky dwellers of Europe (specifically Austria, Belgium, Denmark, Estonia, Finland, France, Germany, Ireland, Italy, Netherlands, Sweden, Norway, Portugal, Spain and the UK) will benefit from this first.
Other countries worldwide will follow in 2007.