The family of a 13-year old girl who was allegedly sexually assaulted by someone she met via Myspace have had their lawsuit against MySpace thrown out by a Texan judge.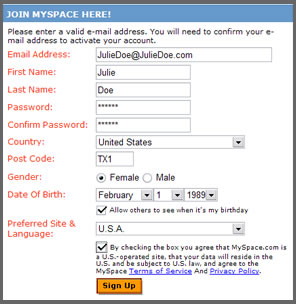 As we've covered previously, this family was one of four who are pursuing MySpace for not taking sufficient effort to protect their children.
As the LA Times reports, "the ruling appears to be the first time a federal court has extended to social-networking sites the same broad free-speech protections granted to Internet service providers," which if correct will have far reaching consequences. We imagine that all at MySpace will also be breathing a huge sigh of relief.
To protect the anonymity of the young girl, she was referred to as Julie Doe, through the case. The court papers revealed that when she joined MySpace, she had listed her age as 18, despite only being 13 years old at the time.
The Judge, Sam Sparks, was very direct in his ruling dismissing the case, "If anyone had a duty to protect Julie Doe, it was her parents, not MySpace."
Not deterred by the ruling, Adam J Loewy, the Austin lawyer who represented the girl, said they planned an appeal, adding "We were prepared for a very long battle in this."