Last week at the LIFT07 conference in Geneva, Florence Devouard, chairwoman of Wikimedia, the organisation behind the ubiquitous, editable-by-all online encyclopedia warned that Wikipedia was facing a serious financial crisis if it did not receive more funding soon.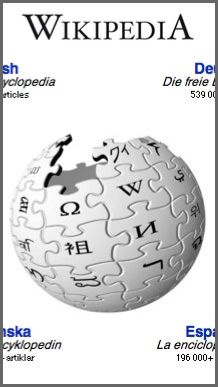 Whilst there have been sensationalist reports that Wikipedia would be forced to close in three to four months if the current financial situation continued, this has shown not to be the case by an interview of Devouard. She does stress, however, that Wikipedia cannot continue growing at the current pace if it does not find ways to raise money.
Currently Wikimedia (which is a non-profit organisation) is funded almost entirely from donations, with the occasional content license deal. There can be little doubt that if Wikipedia were to run advertising, it could instantly become self sufficient, as Jason Calacanis, web media entrepreneur, has been advocating. They point to the success of the Mozilla Foundation (the makers of Firefox), another non-profit organisation, who are in a very good financial position thanks to an advertising deal with Google.
However, Wikimedia has not been keen to accept such advertising, in part due to the fear that it would taint the non-commercial nature of Wikipedia, and in part due to opposition from some users.
It would seem that Wikimedia has two options for the future of its funding; continue with the current approach of soliciting donations as the main source of income or accept advertising, with all the negative consequences that may follow.
There may, however, be a third way. I would like to see Wikipedia commercialised; there can be little doubt that it would be of enormous commercial value to a purchaser, and that its status as a revenue generating business would help to guarantee its future. Wikipedia's objectivity as an organisation is sacrosanct, but so are Google's search results. Google recognised when it was founded that it would cease to be of any value to its users the day that it accepted money for placement within its search results. The result is clearly labeled advertising which in no way detracts from a useful product, and an emphatically revenue positive company.
I see no reason why Wikipedia cannot experience the same kind of success that Google has enjoyed; a rich Wikipedia could afford to pay experts to review its articles, improving style and accuracy (and thereby removing a major concern which is a barrier to its mass adoption as a trusted source of information). A rich Wikipedia would ensure that this resource which has become crucial to our information age will remain for as long as it is needed.

Don't forget that you can support Wikipedia by sending donations to support Wikipedia. (Thanks Mikker)

Huw Leslie is editor of UK-based Web 2.0 and software blog Gizbuzz, and the co-founder of technology blog network Oratos Media. His personal blog is For Crying Out Loud!