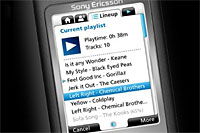 You may not have heard of them yet, but feisty Brit mobile music company Omnifone have announced one of the first big challengers to Apple's soon-come iPhone/iTunes Store service.
Called MusicStation, the new service will dish up an "all you can eat" menu for European users, with music downloads starting at £1.99 ($3.88) per week
Initially launching their service in Europe and Asia this year, the London based company says that it's already secured partnerships with 23 mobile network operators giving them access to a customer base of 690 million subscribers in 40 countries.
"MusicStation will give users of any music-capable mobile phone the ability to legally access, download and enjoy an unlimited amount of music, from a global music catalogue supported by the music industry, all for a small weekly fee, wherever they are," enthused Omnifone Chief Executive Rob Lewis.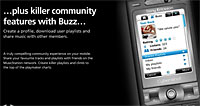 "We will ensure the vast majority of Europeans have the freedom to choose MusicStation by the time iPhone arrives in Europe. We will give consumers the choice they deserve," he added.
Users subscribed to the service can search, download and play tunes on their mobiles with the option to sync content with home PCs to create playlists sharable with other MusicStation users.
Unlike the iPhone service, MusicStation lets users download tracks over the air across a data network, giving music-hungry punters an instant fix, wherever they are.
"By leveraging the hundreds of millions of handsets sold every year by operators to deliver MusicStation into the global market, we believe we can give Apple a run for its money in digital music provision," chest-thumped a tiggerish Lewis, adding, "except that with MusicStation users don't need a credit card, computer or broadband connection."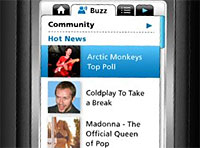 Predictably, music tracks will come with digital rights management and be delivered in the eAAC+ format (that's enhanced advanced audio coding, in case you're into knowing that kind of thing).
As well as music, the service will feed punters personalised news, new release details, ticket sales and concert listings, along with recommendations for new songs based on their listening habits.
With songs and playlists being held on a centralised server, content can also be recovered and downloaded in the event of some steenkin' tea-leaf nicking their phone.
MusicStation say that music content will be supplied by both major and independent labels – including Universal Music Group – as well as local artists.