You may have seen the announcement of the tie up between Vodafone Europe and MySpace Mobile we ran a short while ago.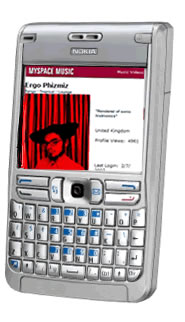 We think this is a pretty big story, so we've been chatting to Vodafone and Myspace to get further details and thought we'd fill you in.
The UK will be the first market in Europe that Vodafone will release it in. The dates of the release are being very closely guarded. We tickled and cajouled in an attempt to get it tied down further, which resulted in us finding out it will be the second half of the year. Perhaps later, rather than sooner.
There will be a subscription fee, as is the case in the MySpace Mobile deal with Cingular in the US. The details of costs are currently unannounced.
MySpace Mobile runs on its own application, not through standard Web access. We're not aware that this has been seen in the wild, so the completion of it may account for the yet-undisclosed release date for the Vodafone service.
Access to the app will be via the yet unannounced 'selected handsets' and it will be available for download from Vodafone Live!
Impact
While it might initially appear to be a great deal for Vodafone to capture the youth as customers, there may be clouds on the horizon. In a recent visit to a youth club, it was surprisng to see all of the collected 13-16 year olds using BeBo, with not one on MySpace. When asked why, they replied that they just found setting up and running BeBo a lot easier than MySpace. We can only assume that Vodafone did some decent research on who actually uses it, rather than what MySpace told them … didn't they?
It's not clear how much of a market there will be for this. As mobile phones handle Web browsing increasingly better, the need for a dedicated application drops away, as people simply use their Browser on any network. It's been seen that a well-written dedicated mobile apps can still maintain an advantage – like Google's mobile email client – due to the restricted interface intrinsic with mobile keyboards.
What will the features be?
The details of what MySpace-ers will be able to do …
MySpace Mobile Features:
* Upload and View Photos
MySpace Mobile allows Vodafone customers to select photos stored on their mobile device and upload them to their MySpace profile. They can also view photos already uploaded on any MySpace profile.
* Respond to Mail
Vodafone customers don't have to wait to log on to a computer to read and reply to their MySpace messages. From their mobiles, they have the ability to send messages to their MySpace friends, read and reply to messages sent to them.
* Manage Your Community of Friends
MySpace Mobile allows customers view and manage friend requests. They can also perform basic friend searches giving users the opportunity to "click-to-add "friends into their network. They simply locate a MySpace profile they wish to add as a friend, and then select to add this user as a friend.
* Post Comments or Blog Entries
Update your blog live throughout the day by posting new entries on the move, or make comments to other users' blogs or MySpace profile pages. To post a blog or comment, people simply view the appropriate section and click "Post" to create the entry. Users can save their work at any time, and any information entered will update both the mobile service and the online MySpace profile page.
* View Friends
Customers have the ability to view the friend list of any MySpace profile. The friend list contains a text listing of the friends, which when selected would show the profile picture along with a link to that user's MySpace page, and the ability to add the friend to your MySpace contact list for quick bookmarking.