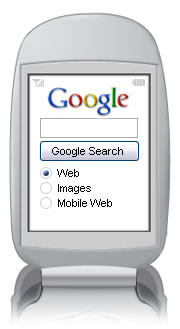 Browsing Gmail, Google's email service, wasn't particularly great when you did it from a mobile … until now. With the new release of gmail mobile that was launched today.
Gmail for Mobile Devices (GMD?), to give it its full official name, is a Java app that can be downloaded and run on any Java-enabled handset. The previous version was browser-based and pretty basic.
It's an interesting change of approach for Google, who has near-exclusively focused on browser-based applications to access their services (except for Google Local).
GMD isn't the only Java-driven email client. Flurry was pointed out to us by Cristian Streng. It's had close to 1 million downloads from getjar.com alone and is used in over 200 countries.
Clearly not wanting it to get used too heavily, Google has officially only made the application downloadable in the US, where until recently people didn't really use their phones for anything except making calls. While they've been doing that, the rest of the world have used their mobiles for everything from gaming to text messages.
Gmail Mobile app Mobile access Only
Flurry