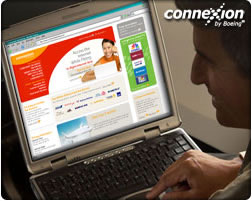 Recently while travelling on an SAS flight, I had the pleasure of trying out the Connexion by Boeing service, which is an Internet service offered on long haul services.
Trials for the service started back in two carriers in June 2005.
The system provides a WiFi connection on the plane and connects back to Boeing using some kind of magic (a satellite service, somewhere on the plane a dish or dishes always stay in site of the satellite signal).
It's all transparent to the user, just connect to the WiFi signal (and there really aren't any others to connect to at 30,000 ft) and then go to the Boeing portal and sign-up.
It's free
Although the sign-up page requires you to enter your credit card details the only price plan currently available is priced at $0.0, which means you aren't charged (I'd imagine for security purposes, so any naughty activity can be traced back to someone). You then get a username and password and can sign-in to using the actual service – which then lets you out in to the wild world of the Internet.
It all worked rather well. Email was speedy and even logging into a remote system worked well, though there was a lag between what you typed and what appeared on the screem – it was usable though (much better than GPRS or some 3G connections have been). Updating MacOS X was doable with download rates of around 70KB/s. Lag was a good 600ms, but that's what you get from sending data 30,000 miles up to a geostationary satellite and down again and back.
A business user could gainfully use the 10 hours or so in the air and be productive.
The end is nigh
Unfortunately the reason that it's free is that Boeing are discontinuing the service and as they can't guarantee any service levels – they're giving it away until the service ends (Jan 2007). They argue that not enough airlines have signed-up and are cutting their losses.
It's a real shame as the service worked well and the pricing was sensible for passengers even when they had to pay.
It's not as though the airlines can keep it going either, as Boeing are physically removing all the equipment they installed in the planes.
Panasonic have said they will introduce a service to replace Boeing's, but it could be a while, so in the meantime, passengers will have to make do with working off-line or catching up on movies they wouldn't dream of watching normally.