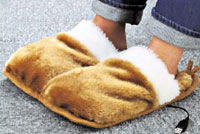 With the evenings drawing in and artic breezes circulating around your workstation, it may be time to invest in some handy USB-powered warming devices.
First up is the USB Foot Warmers, designed to get your tootsies toastie within minutes.
The USB Foot Warmers are covered in soft brown and white fake fur backed by a 'leather fabric' base with the slippers being warmed through a compact, ultra-flexible heat panel lurking in the lining of the base. The heat panel can be removed for washing.
Once the slippers are plugged into a USB port, this panel will immediately begin to heat and will remain at comfortably warm until unplugged. Or your machine crashes.
The foot warmers come with a 107cm-long USB cable (how long before the user wanders off and drags the PC with them?) and it has to be said that the whole ensemble is quite exceptionally unstylish.
The USB Foot Warmers are available from the Gadgetshop for fifteen quid. No thanks Santa!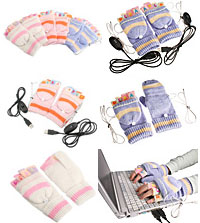 USB G-Gloves for girlies
Somewhat more attractive – but equally daft – are the USB G-Gloves from our favourite purveyor of frivolous goods, Brando.
In case you didn't know, the 'G' stands for 'Girls' who Brando hope will be wooed by their knitted (real wool!) pastel colour schemes on offer.
The gloves feature an open ended design that lets girls show off their nail varnish do some typing, with the gloves offering two USB-powered heating levels.
Each mitten comes with two built-in warming pads that heat by 10 degrees n five minutes, and you can pick up a pair for $22 (£13).
Brando also do a men's version, but they weren't the mean'n'macho, black-leather, studded affair we'd hoped for.