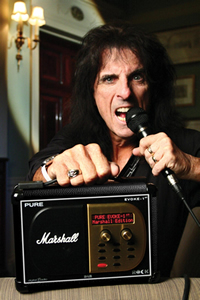 DAB radio pioneers, Pure Technologies, have released information about a forthcoming DAB radio, styled as a Marshall Amp.
To rockers and heavy metal fans alike Marshall Amps rule, so this is likely to appeal to head banger who remember the days of AC/DC when an adult dressing up as a school boy was actively encouraged.
EVOKE-1XT Marshall Edition is wrapped in black vinyl, just like a Marshall amp, with solid wood construction, brass-effect control panel and a black metallic speaker grille.
Pure tell us that it has a bass reflex port for enhanced bass performance alongside a custom designed 3″ drive unit and active-filters to provide a natural 'direct-from-the-studio' sound. Let's Rock!
You to can fool yourself that you've turned your bathroom into the Monster of Rock playing Donnington by buying this beauty.
Pure clearly have a sense of humour as the volume goes up to 11 (tm Spinal Tap).
It's going to sell for 1p under £100.