Avanquest Software, makers of the old-faithful LapLink, have launched PCMover to help people transfer all of their PC data from previous versions of Windows on to Vista.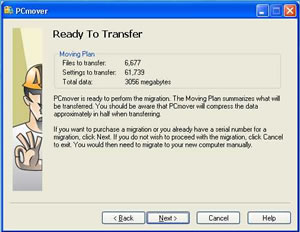 Getting a new machine with a new operating system is both a joy and a pain. The joy is the shiny new OS you have to play with and the likelihood that it runs considerably faster than the previous machine. The pain, is trying to make sure you've remembered all of the little bits of data tucked away in forgotten corners, and usually having to reconfigure all of your settings back to the way you had them on your previous machine.
That's where PCMover comes in.
The software digs deep into your current version of Windows (going back to Win95), rummages around and gathers all files, settings and programs, including those held in the registry, for transfer to a new Vista-equipped machine.
It has mind-settling features such as not overwriting any pre-installed software on the new PC, or alter the old PC in any way and if you feel it's all gone horribly wrong, there's an undo function.
The available options to carry out the transfer are extensive. The package comes with a custom USB 2.0 lead which "includes a chipset that allows for a simultaneous, bi-directional flow of information between PCs," that they tell us enables a faster transfer.

Beyond this, you can choose from a wired/wireless network for top speed, or resort to a USB 1.1 or a parallel cable. There's also an option to use removable media such as a CD-R or DVD-R.
With the forthcoming release of Vista at the end of the month, there's likely to be a number of supporting applications to help people switch.
Thomas Koll, Chairman and CEO of Laplink Software feel that they are in a strong position, as he was more that happy to share, "Because our competition can't move software programs, they don't offer the same total migration solution that we do."
PCmover Vista is available now at the SRP of £49.99 from their online shop, or if you like to collect boxes, from selected retail outlets.