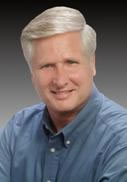 Marty Lafferty, (pictured right) CEO of the Distributed Computing Industry Association (DCIA) gives us a synopsis of the Next Generation P2P sessions at the recent Digital Hollywood Europe conference held in London's docklands.

The Next Generation P2P sessions spread over the morning and afternoon with speakers including CacheLogic CTO Andrew Parker; Digital Containers CEO Chip Venters; Friend Media Technology Systems (FMTS) CTO Jonathan Friend; RawFlow Marketing Manager Ingjerd Jevnaker; INTENT MediaWorks CEO & Co-Founder Les Ottolenghi; Kendra Initiative Founder Daniel Harris; Warner Bros. VP of EMEA Anti-Piracy Operations Trevor Albery; Altnet CTO Anthony Rose; CyberSky-TV CEO Guido Ciburski; Oversi VP of Strategy and Legal Affairs Dr. Nimrod Koslowski; and FTI Consulting Senior Managing Director Bruce Benson.

Andrew Parker (pictured right) opened by noting that P2P first moved to the forefront of digital media distribution in 1999. It has since become the single most dominant Internet protocol now representing 65%-to-75% of all online traffic globally. Remarkably, each time that adverse pressure has been applied to slow its growth, the technology has moved forward to wider adoption. Now, economic incentives are driving content owners to explore the benefits of embracing P2P, which holds the potential to provide a near broadcast environment online.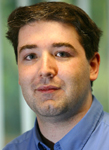 There are still many technical challenges to overcome to achieve the full potential of P2P as an entertainment distribution channel, however, and CacheLogic is working in this arena with several critical offerings. It is important at this juncture to avoid a pendulum effect from swinging too far in the direction of extreme control with overly restrictive DRM implementations.
Chip Venters (pictured left) postulated that P2P is the ideal protocol for super-distribution based on the exploitation of payment systems traveling with content files – digital containers that persistently send information back to content providers – for example, when a file has moved or copies have been made. P2P today represents a market of 200 million consumers, but with not much yet available for sale to them.
P2P has gained considerable credibility since the establishment of the MGM v. Grokster inducement doctrine, and leading content owners are no longer focused on bullet-proof encryption as a pre-requisite for exploring P2P, but rather on how to make money. The current DRM mantra has become "keep honest people honest." We need to move beyond proprietary and walled-garden approaches in digital distribution; content must be able to be readily redistributed usably. With the coming of IPV6 and virtually unlimited IP addresses, Digital Containers' harnessing of P2P will have even greater applicability and value.
Jonathan Friend expressed the view that there needs to continue to be a strong anti-piracy focus to fully develop the commercial potential of P2P. The fact is that the majority of P2P content continues to be copyright-infringing, despite court rulings and enforcement efforts. User education has also been deficient, with some 60% of P2P users not even aware of the legitimate uses of P2P. Disturbingly, too, is that recent dispute settlements have propelled an accelerated migration to open-source client development, which along with commercially beneficial attributes, has also brought a greater emphasis on techniques to guarantee user privacy, exacerbating the challenges faced by interdiction and other enforcement initiatives.
What is needed now is to combine FMTS' more advanced anti-piracy efforts with other activities, such as marketing campaigns and educational programs. The inevitable movement to open standards must be guided towards positive aspects such as interoperability, and the industry will find additional business uses of P2P as the growth of decentralized networks continues to expand.
Part two of the coverage – Next Generation P2P: Digital Hollywood Europe.
Part three of this coverage – Next Generation P2P – Digital Hollywood Europe.
Reproduced with permission of the DCIA. For more information, plan to attend the day-long P2P MEDIA SUMMIT NY on February 6, 2007.